angelus's Debut Record Released By Opposition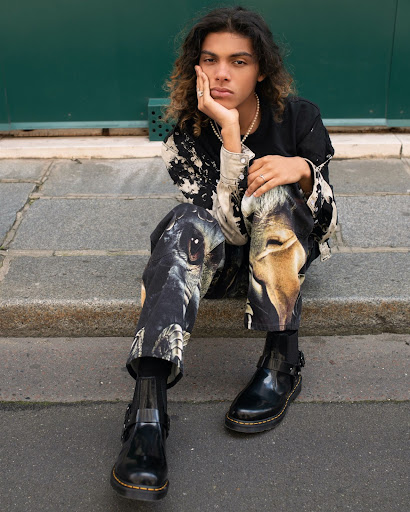 17-year-old digicore/hyperpop artist, angelus, dropped their debut project "drama queen". Despite several familiar hyperpop elements, angelus' music transcends beyond a singular subculture, emphasizing their multifaceted creativity and ability to reach a diverse fanbase. The project features production from angelus, AObeats, funeral, and many more. Listen to the project here.
The first song that was revealed from the album was "gossip girls", which angelus uploaded to Soundcloud in early May 2021. The positive feedback convinced them their music was gaining traction and was ready for the spotlight. angelus went on to write popular songs like "obsessed", which combines the thrills of K-pop with a darker edge version of The Weeknd and Yves Tumor. The album art illustration for "drama queen" references both animé and Michael Jackson's motorbike chase in the Claymation Speed Demon video (including the Eiffel Tower background).
"drama queen" recounts their experiences as a youth in France and as a non-binary artist navigating the music industry. With a self-written debut album of this quality, angelus is destined for greatness, creating a lane for young underground artists from Europe to grow with a music movement happening across the world. With their pop culture absorbent powers, scene-generated fans and cultural energy, there are endless opportunities for angelus.
"drama queen" is co-released by Opposition and the newly minted AMCO label (from the team that founded Atlanta's Awful Records known for Father, ABRA, Tommy Genesis, Faye Webster and more).
angelus is a non-binary artist from just outside of Paris, France. Born in the UK to parents from Guadalupe and Germany, they started teaching themselves English online at a young age. By 13, they were learning how to make "Lil Uzi type beats'' from YouTube tutorials. Starting out as a producer, initially influenced by Metro Boomin and XXXTENTACION, they progressed to writing loud neon pop music under the inspiration of beabadoobee, Billie Eilish, SoFaygo, Michael Jackson, and Yves Tumor. They have a highly-engaged US audience and are already demonstrating unique potential for international appeal. Their journey in music began by experimenting with FL Studio, lending production to several rising artists including glaive, ericdoa, p4rkr, midwxst, and d0llywood1. This early success provided angelus the foundation to begin releasing original music, which was immediately embraced by the digicore/hyperpop scene. angelus recently landed the cover of Spotify's hyperpop playlist, credited in part to the excitement surrounding their single "gossip girls". They were also featured in SoundCloud's digicore video feature.