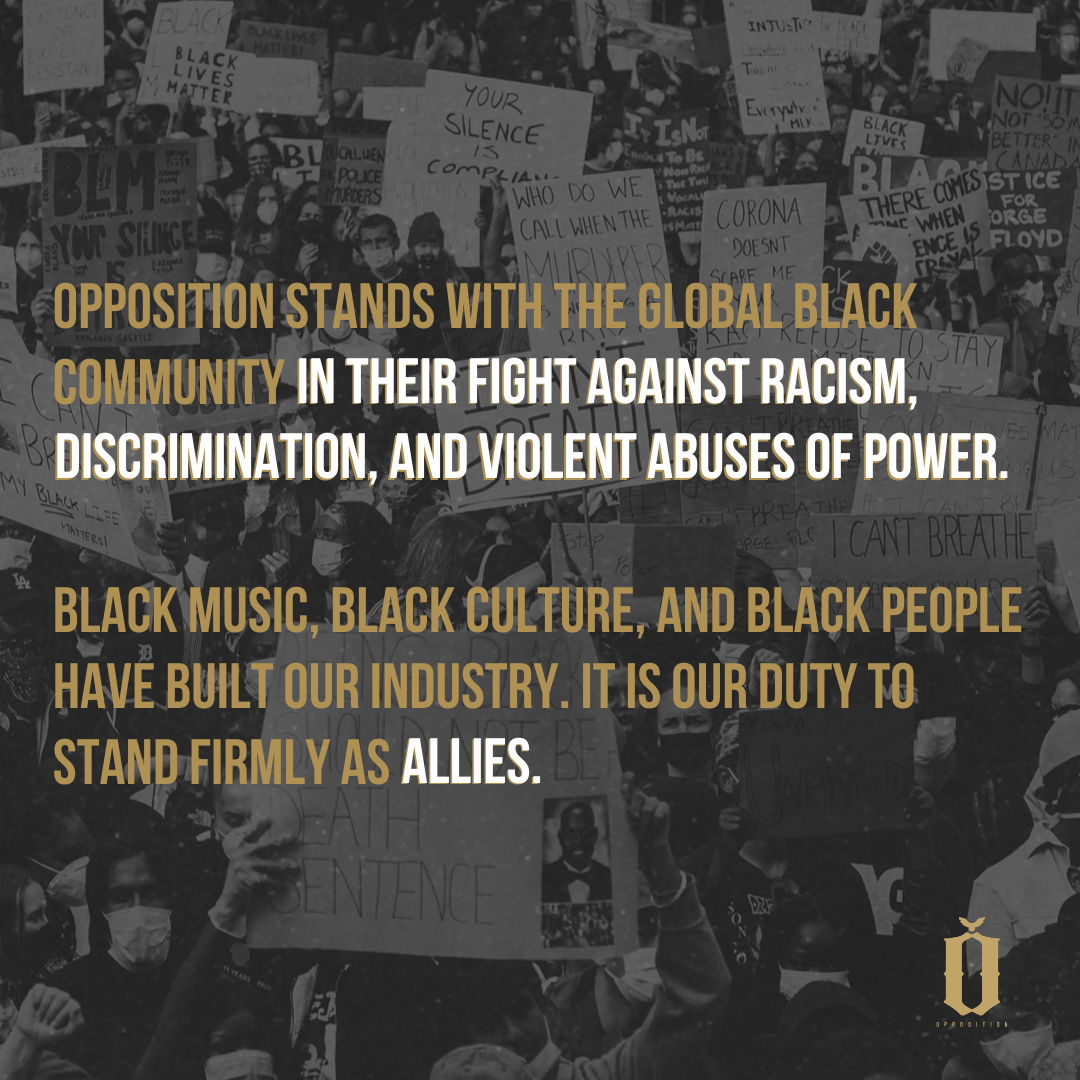 Opposition will use "Blackout Tuesday" on June 2nd and the upcoming days to educate ourselves, spread awareness, and continue to support groups and organizations fighting for black liberation.
We must create change together. We must prosecute and end police brutality. We must protect and value black lives. We must end systemic racism.
Please view the below on companies to donate to, petitions to sign, and ways to educate yourself. We will continue to add to it.
Black Lives Matter: #BlackLivesMatter resource for petitions to sign, resources to educate, resources for protestors, donations to families of victims and much more https://blacklivesmatters.carrd.co/
Donate to:
Funds towards bail and legal defence for protestors who have been arrested
@ColorofChange: Who work to end practices that unfairly hold Black people back, and champion solutions that move us all forward.
@TheDreamDefenders: Young People fighting for a future with no cages, violence or corporate greed
@BLDPWR: engages with athletes & entertainers to use their platform to advance radical social change & dismantle systemic oppression.
@NAACP: Legal defence & educational fund. Works to improve the quality and diversity of judicial and executive appointments.
Act: #JusticeforGeorgeFloyd: sign the petition to hold all four officers accountable.
Fund for the community of Black Trans women that live in Atlanta and are sex workers and/or homeless
Educate: This document has been made to educate white people but serves all who are anti-racists and looking for educational content, companies to follow, and more.
#BlackLivesMatter Canada resource including petition and donations to help bring #JusticeForRegis
Albums to listen to:
Max Roach - We Insist! Max Roach's Freedom Now Suite (1960)

JB Lenoir - Alabama Blues! (1966)

Sly & The Family Stone - Stand! (1969)

Curtis Mayfield - Curtis (1970)

The Watts Prophets - Rappin' Black in a White World (1971)

Gil Scott-Heron - Pieces of a Man (1971)

Marvin Gaye - What's Going On (1971)

Public Enemy - Fear of a Black Planet or It Takes a Nation of Millions to Hold Us Back (1988)

N.W.A. - Straight Outta Compton (1988)

Ice Cube - AmeriKKKa's Most Wanted (1990)

2Pac - 2Pacalypse Now (1991)

Rage Against the Machine - Rage Against the Machine (1992)

Black Star - Mos Def & Talib Kweli are Black Star (1998)

Dead Prez - Let's Get Free (2000)

Erykah Badu - New Amerykah Part One (4th World War) (2008)

Nas - Untitled (2008)

Kendrick Lamar - To Pimp a Butterfly (2015)

T.I. - Us or Else (2016)
Books to read:
Me and White Supremacy by Layla Saad

Pushout by Monique W. Morris

White Fragility by Robin DiAngelo