Elita Announces Debut Album Dysania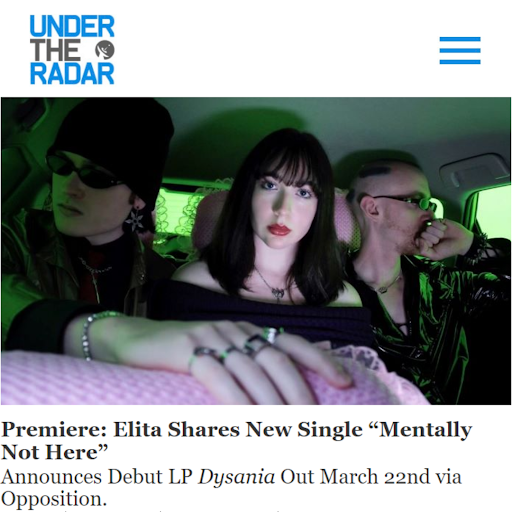 Today, rising alternative act Elita announced their debut album, set for release March 22nd, 2023. The announcement came with the release of the album's second single "Mentally Not Here", which premiered on Under the Radar. The band features Elita on vocals, Tim Rypien on guitar/keyboard, and John Eddy on guitar/slide. They've achieved over 30 million streams early on in their career with their hypnotizing, often dark tunes. Elita's airy, angelic vocals contrast brilliantly with the sinister lyrics, creating a spine-tingling feeling for the listener. Their new music builds on the dark, haunting subjects of their past projects with songs that tie in themes of anxiety and depression with the supernatural.
"This song is existential dread. Feeling drained by the impending doom of an apocalypse. The cursed beat and dissonant melodies put you on edge. It sounds like lo-fi hell hounds started a band and recruited a disillusioned angel to be their singer." - Elita
The single follows the albums first release "Sleep Paralysis", which featured an eerie music video during a fitting week of Halloween release. The band continues to emerge from being an undiscovered hidden gem, achieving thousands of dedicated followers with very little industry support.
Elita's debut album release follows-up their 'Anxiety Angel' EP which featured hit record "Sour Switchblade" (10M+ streams), a song that Indie88 described as "packed with hypnotizing, cyclical instrumentals and haunting vocal lines."