XYLØ Drops "aliens", First Single & Music Video From Much-Anticipated Debut Album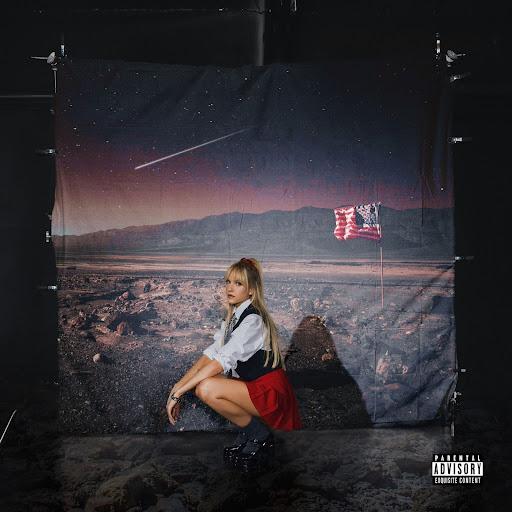 "XYLØ's music is sure to set a fire in you." - People (Oct 2021)
Today, Opposition artist and dark pop songstress XYLØ, released her new single, "aliens", co-written and produced by long-time collaborator, Lee Newell. This is the first single from XYLØ's highly-anticipated debut album, unamerican beauty.
The David Lynch-esque music video, directed by Callum Walker Hutchinson and Lee Newell, follows a day in the life of Paige and her new alien pals. "aliens" is chock-full of outlandish sound effects and earworm vocal parts that make for an incredibly catchy record, and a very fitting song title. The lyrics continue to build on XYLØ's recurring theme of feeling like an outsider—"aliens" is an anthem for all of us who feel lost.
A cryptic teaser posted by XYLØ in December had fans excited for the debut project, boosting her ability to reach new fans and listeners worldwide.
"aliens" was written after a girls night with my childhood friends. Some have seen major success and some are still searching for what they want. We all come from different backgrounds and upbringings, but the one thing that joins us is the commonality of feeling lost. No matter how much or how little we have, and rather than being afraid of it, (we go) along for the ride. - Paige Duddy, XYLØ
Born and raised in the suburban outskirts of Los Angeles, XYLØ aka Paige Duddy found breakthrough success with her brooding debut EP, America, in 2015, featuring viral hit "Afterlife". Following a string of sold out, one-off headline shows, a platinum record with The Chainsmokers and over 350 million streams on Spotify alone, XYLØ has been described by Nylon Magazine as the "queen of dark pop". Before finishing her first headline tour in 2019 with sold out shows across the US and UK, XYLØ launched her own indie label, Pretty Records, where she has since released four successful EPs, pretty sad (2019), yes & no (2019), The Ganglands Of My Heart (2020) and OUTSIDERS CLUB (2020). Now, her focus is on the debut album, unamerican beauty, which is slated for release sometime in 2022 via Opposition. With her unapologetic, lyric-driven songs covering themes of loneliness, self-discovery and feeling like an outsider, XYLØ has cultivated a loyal fanbase around the world.
Paige grew up in a large musical family. Her grandfather was a jazz drummer and percussionist who had a huge influence on her interest in music. She started writing and recording music with her brother, and in 2015, they released their first song, "America", which led to signing with Sony's Disruptor Records. After a couple years as a duo, Paige continued on as a solo artist with the stage name, XYLØ, and began releasing music independently.
"My career started from 0 again, and suddenly for the first time in my career, I was able to make my own decisions", Paige said. Long-time co-writer Lee Newell (former frontman of the bands Viva Brother and Lovelife) has continued to work on the project as a co-writer and producer.