Juice WRLD & Future Connect on WRLD ON DRUGS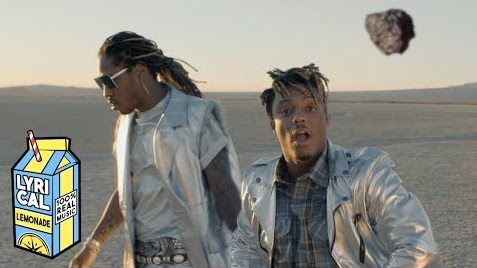 Future and Juice Wrld put the rumors of a joint album to rest and released WRLD ON DRUGS last week. While Future has been a long standing pillar in hip hop, Opposition partner, Juice WRLD, is cementing his place as one of the more introspective, darker rappers we've seen in awhile.
What has easily become the most exciting collab in rap this year also sees a majority of songs done by producer extraordinaire Wheezy. Together, this trifecta of rap's finest talent deliver a hallucinogenic experience paired with trap-inspired beats. While both rappers are distinctly different in age and place - Future, 34, from Atlanta, and Juice WRLD, 19, from Chicago - they share a rare talent of making melancholic lyrics of falling deep into women and drugs feel fresh for 16 songs.
On Wednesday night, the rappers released three music videos for WRLD ON DRUGS. One of the best pairings of Future and Juice WRLD's melodies can be heard on "No Issue". Opposition partner Cole Bennett was enlisted to the direct the "extraterrestrial" music video that includes alienesque blue women, Future and Juice WRLD in matching silver outfits, and a silver DeLorean. With Cole Bennett behind the camera, the concept works. This isn't the first time Juice WRLD has collaborated with Cole Bennett and Lyrical Lemonade. His first music video for the hit single, "All Girls Are The Same" that skyrocketed the young Chicago rapper onto new levels of popularity, was directed by Cole and has received over 65 million views. Clearly, there's a chemistry between the two as Cole found himself directing Juice WRLD's next hit, "Lucid Dreams" which currently has over 212 million views.
The music videos for "Realer N Realer" and the title track, "WRLD on Drugs" were also released at the same time. Working as montages of the trap and the two rappers, including a cameo by Young Thug in both, the videos take on a raw view of a drug-ridden world. While Cole's video is stylistically attuned to "No Issue"'s beat and this exciting new partnership in rap, the two other videos touch on the drug world and those it affects the most.