Opposition Featured in DJBooth's Rights Management Article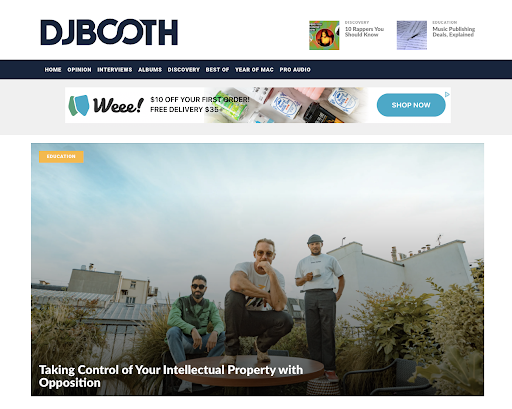 Opposition was recently interviewed by DJBooth about music artists and their growing need to protect their IP (intellectual property). The interview reveals how Opposition, a veteran in the YouTube Rights Management space, provides this end-to-end service for established and rising music talent.
One of the biggest challenges in the music industry is for artists to maintain control of their IP in a time when third party and fan uploaded content is so prevalent.
Independent artists often are more likely to face rights management issues with limited access to a dedicated team that tracks their IP, wherever it lives. This is where Opposition can truly make an impact for artists.
DJBooth spoke to Shane Gill, Head of Opposition, on the responsibility of labels and distributors to protect their artists while empowering them to learn the ins and outs of IP management for themselves. The main goal of rights management is to ensure artists are earning every dollar from content that is rightfully theirs, while being aware of where their IP is being shared.
"An artist often doesn't realize the song they made is truly their owned work and is often available in many places online," Gill says. "They must take the proper steps to protect that IP."
"Whether it's preventing leaks, efficiently monetizing usage and reusage, or simply collecting statistics—all the while operating within copyright rules and regulations—rights management is how it all can be accomplished."
The article details how major artists including Major Lazer have turned to Opposition for YouTube rights management support and have experienced noteworthy increases in their revenue. Ultimately, whether you're an independent artist or signed to a major label, today's digital music landscape demands that artists prioritize rights management.
Read the full article here.